DJ Paytric to spin at EMA's MTV Music Week
The MTV Europe Music Awards (EMA) return to Germany after a ten-year absence. Germany's own club and festival talent, DJ Paytric will warm up the international superstars prior to the event..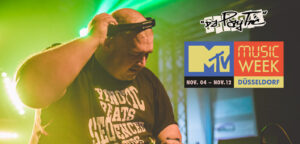 The 2022 EMA's will take place 13 November at the PSD BANK DOME in Düsseldorf where a who's who of musical talent, including nominees Adele, Beyoncé and Harry Styles, will vie for the coveted awards.
In the run-up to the event, Paytric – whose real name is Patrick Strunk and is known on both the national and international DJ scene – will provide musical accompaniment at MTV Music Week. The supporting programme includes four dates for MTV Breakfast Club at the me and all hotels in Düsseldorf where the versatile DJ will demonstrate his skills during an extended breakfast from 9 a.m. to 1 p.m. where he will feature songs from the various award nominees.
---
COMPANIES:
Gucci • Samsung • Audi • Bacardi • Sony • Jägermeister • Pioneer and  more …
CLUBS:
Pacha, Ibiza • Privilage, Ibiza • Bootshaus, Cologne • Versuz, Belgium and more …
EVENTS:
Nature One • Love Parade • Ruhr in Love • Ibiza Club Week and more …
MEDIA:
Germanys Next Topmodel • Einslive • MTV Music Week • RTL • Pro7 • Nürburgring and more …